Is The Game Fakin' Tuff?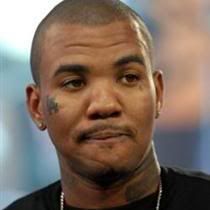 Every since his departure (since they booted him)from G-unit/Aftermath records
The Game
has been in and out of trouble. Having more than his share of legal problems,
The Game
has been creating more havoc then the law allows, literally. While going all out to destroy G-Unit with his Gunot campaign, the game seems to be living out his brash lyrics in his songs. But is all this just for attention? Is
The Game
just acting tough? Recent videos on Youtube show The Game at his worst. He talks on the recent beef he had with California rapper Rass Kass, and then goes on to get locked up for making a scene in an North Carolina mall. The most recent incident is his appearance on Channel 7 news in which the police surrounded his home in Glendale searching for a weapon after he supposedly made criminal death threats.
Actin Out N Tha Mall
Talkz On Rass Kass
Gettin Locked Fa Silly Shit